THE WRITE PLACE
As a professional, we know you realize communications are your most powerful means of making an impression ... on customers ... on employees ... and on stockholders. Effective communications take talent to get the message across and take time to research and produce. If you are like most busy people, your time is in short supply. How many of your best communication ideas have been smothered because you didn't have the time or manpower to follow the project through to completion?
The Write Place (TWP), a marketing communications consulting company, offers a full-range of marketing services that include: ADVERTISING, PUBLIC RELATIONS, PROMOTIONS, SPECIAL EVENTS, SALES, TRAINING, AND COPYWRITING.
WHAT MAKES US SPECIAL? We listen to our Clients and assist them in reaching their individual goals INSTEAD of telling them what they should do. THE WRITE PLACE offers a team approach to every project that includes:
NEWSLETTERS:

Effective communication geared toward a target audience, offers information, or promotes products, while keeping the organizations name in the public eye.

Employee newsletters are especially helpful in boosting morale and keeping lines of communication open.
BROCHURES, FLYERS, PAMPHLETS:

These important tools, describing products or services, have numerous marketing possibilities depending on the design and content.

TWP has designed corporate communications for a variety of clients.
ARTICLES for PUBLICATIONS:

Every industry has its own mouthpiece that is read by the corporations, clients and competition!

Even a brief piece in the form of a press release can enhance a companys image.

TWP has published such articles in Small Press Magazine, Atlanta Journal-Constitution, Editor's Forum, Apparel Industry Magazine, Publishers Association of the South, Panorama Magazine, Panama City News Herald, Apparel South, House & Home Magazine, and Condo World, to name just a few.
SPEECHES, PRESENTATIONS & PROFESSIONAL TRAINING:

Next to rattlesnakes and death, public speaking is in the Top 3 most feared experiences in life.

It can be made easier by having a ghost writer who can also coach you in presentation techniques.

TWP has handled the speech requirementsfor corporate executives and has extensive experience in professional training.

A variety of courses is offered, and topics can be designed to meet the specific needs of the client.
ADVERTISING & MARKETING SERVICES:

Developing a message that is custom-tailored to your needs, desires, and budget is a specialty for TWP.

Artists, photographers, printers, production houses and other creative resources are on call to TWP to help create just the right image for your business.

Electronic and print media have been developed for numerous clients.

(A listing is available upon request.)

In addition, Special Events can be very overwhelming for some people but NOT to The Write Place!

Special-event planning has been coordinated for numerous clients as well as communities!
Call TODAY for a free appointment to see how
The Write Place can work for YOU!


(850) 769-4345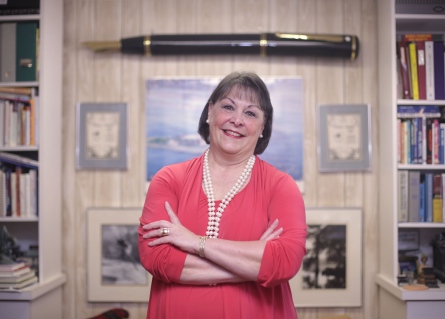 Patricia Sabiston operates The Write Place from her home office in Panama City.
Heather Leiphart | The News Herald
Published: Saturday, May 25, 2013 at 16:20 PM.
Business name: T&R investments, Inc. - dba: The Write Place
Contact info: 4412 Fletcher St., Panama City, FL 32405; 850-769-4345; www.thewriteplaceonline.net;thewriteplace@consultant.com
Specialty: Marketing and PR firm
Number of employees: 2 full-time, numerous freelance assistants
Owner's name: Pat Sabiston
Years in business: 28 years (21 in Bay County)
Dun & Bradstreet Number: 82-809-0647
Dun & Bradstreet Supplier Evaluation Risk (SER#): 2
How did you get into this business? When my husband and I relocated to Panama City in 1992, we realized there was a void in the marketing and public relations arena. We have a writing, publishing and media production background. Although I specialize in medical marketing, we provide services to various non-medical clients, as well. Services include: marketing plans, advertising, public relations, copywriting, event planning, training, and my husband does videos for social media, legal depositions and weddings.
What do you like most about your business? Panama City is the most amazing city I've ever lived in, and I love being able to "give back" through my business expertise. I was one of three local businesses that founded the Advertising Federation of Panama City and helped establish BooksAlive! Most recently, I have worked (pro-bono) as chair of The Panama City Lighthouse Project Inc., and am a former president of The Rotary Club of Panama City. Community service is part of what makes our business special.