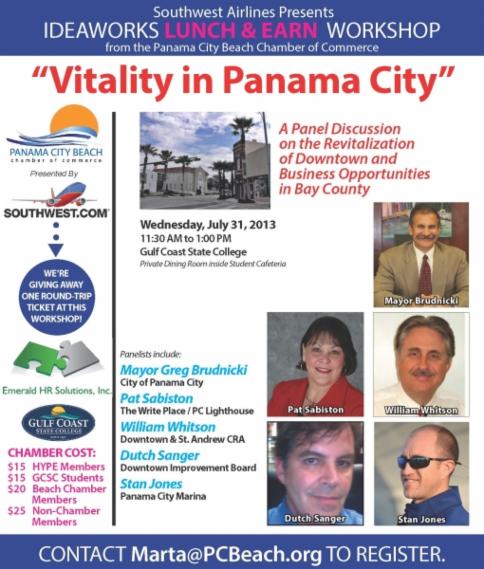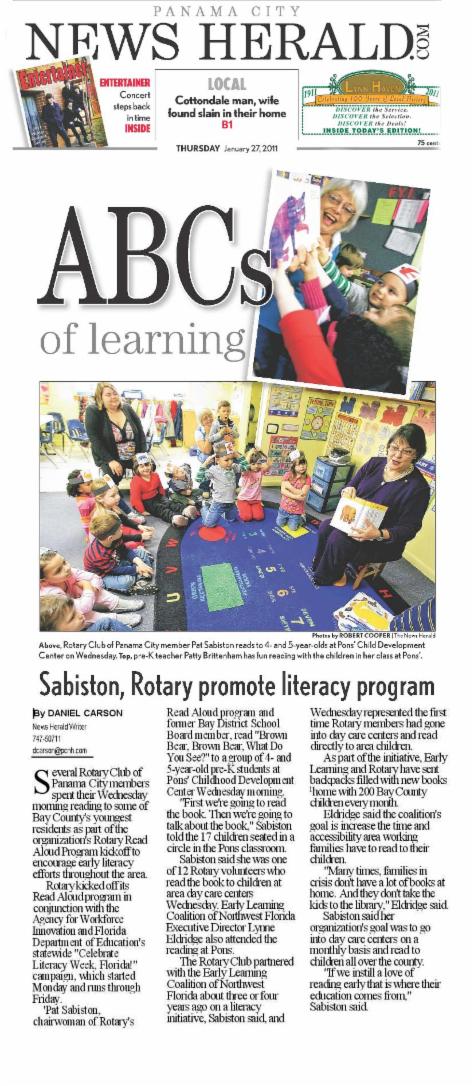 New chapter in reading enrichment
By Tony Bennett
Thank you for the great story about the Rotary Club helping to "Celebrate Literacy Week" ("ABCs of learning," Jan. 27). I am this year's president of the Rotary Club of Panama City, and I would like to add a little more information about the ongoing effort to help improve literacy among the lesser privileged in our community.
The Rotary Club had been approached to attend a presentation on Dolly Parton's project "Imagination Station." The well-respected local attorney, entrepreneur and Rotarian Julian, Bennett (no relation to this writer), on behalf of Rotary and Early Learning Coalition's Lynne Eldridge, attended this event. The presentation addressed early literacy in children ages birth to 5 as one of the critical keys to children being ready for formal education. As a vehicle for addressing this need, "Imagination Station" asked the community to donate funding to purchase books for communities. These books are sent monthly to every child, ages birth to 5 years, within an established area.
Mr. Bennett was very committed to Rotary being involved in helping families who were in economic crisis to have access to books. After studying a 30-year longitudinal research project called Meaningful Differences, Mr. Bennett was convinced that something could be implemented here in Bay County.
Mr. Bennett asked the coalition to develop a pilot project that focused on tracking a child's growth in four primary areas identified in the Meaningful Differences research as cornerstones to the child's language and literacy development. These domains of literacy development included letter recognition, letter sound recognition, rhyming and vocabulary.

The initiative targeted child care training specific to increasing the child care workers' reading scores and the children's growth in the four identified areas. Over the period of the pilot project, data was tracked to determine growth in the following areas:
1. Teacher reading comfort and skills.
2. Parent time with the child and book.
3. Child growth in letter recognition, letter sound recognition, rhyming, and vocabulary.
4. Environmental changes that support literacy growth.
So far, first and second-year results have demonstrated growth in all areas identified. However, funding continues to be an issue, as the materials are not inexpensive. The Rotary Club of Panama City donated $3,000 to purchase books to be sent home with parents for 2009-10 and for 2010-11 school years.

This has been, and will likely continue to be, a priority for our club. Thank you, Julian, for your leadership. Thank you, Lynn, for your commitment.
**************************************
Girls Incorporated




Pat Sabiston kicked off the Guest Chef Series Friday, January 21, 2011with her specialrendition of Chicken Pot Pie. Mrs. Sabiston was a hit with the girls and as you see by the empty casserole dish—the p
ot pie was delish!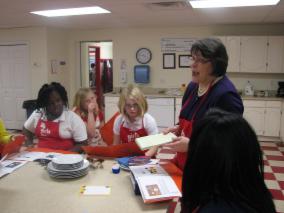 Girls Incorporated of Bay County is known for being educationally based in its afterschool and summer programming. One exciting program that Girls Inc. began this year is their Guest Chef Series. "We have an enormous beautifully designed kitchen that we want to utilize and share t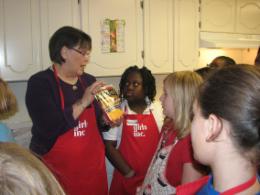 he joy of cooking with our girls,"

Tammy Dunaway, the Executive Director of Girls Inc. says with a smile. "We are inviting role models from our community to lead a small group of our girls in a one to two hour cook
ing experien
ce that
can be anything from a simply sweet dessert to an
involved main course. Our purpose is to have fun while learning a major life skill and to reinforce the positive
experience of sharing "home" cooked food with family and friends!"
*********************************************
Community Advisory Board

The Gulf Coast Medical Center Women's Health Community Advisory Board consists of community leaders who are interested in elevating the experience and quality of health care provided to women and their families. Their experience and insight are invaluable to our hospital as we continue the ongoing process of providing women exceptional and personal care.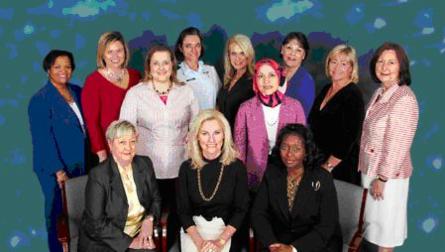 Pictured from left to right: (front row) Panama City Beach Mayor Gayle Oberst; Karen Durden, Chair; Gloria Crawford. (back row) Retha Threatt; Deneice Moss; Kristina Williams; Lt. Col. Carolyn Calvin; Melissa Hagan; Amal Sidani-Tabbaa, PhD; Pat Sabiston; Christine Reiss; Nancy Dodson, COO, Gulf Coast Medical Center. Not pictured: Toni Bense, CDR Jessica Pfefferkorn.
*****************************************************************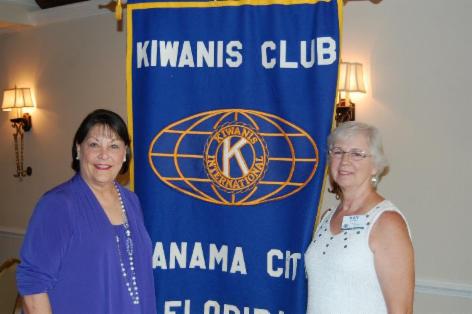 (L-R): Pat Sabiston, Chair of The Panama City Lighthouse Board of Directors with 2011-12 Panama City Kiwanis Club President, Kay Cherry. Sabiston gave the club an update (9/19/12) on The Panama City Lighthouse, and they were very receptive to the message. Sabiston is available for future speaking engagements regarding the construction of the Lighthouse.