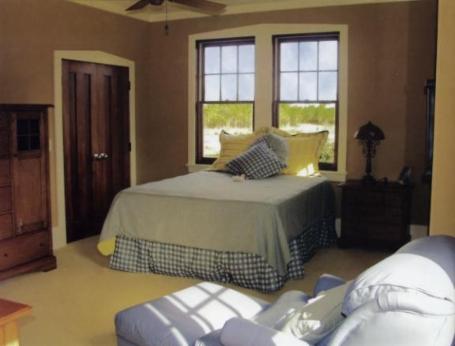 "At the heart of the Arts and Crafts movement was the beauty of natural wood," said Verna. "I like to point out that our detail even included peaked molding around the windows, as well as the use of white paint to highlight the wood casings around the double-hung windows, which compliments the other cabinetry and solid wood floors."
Throughout the house, exquisite wood craftsmanship is displayed in the authentic Arts and Crafts stair railing as well as built-in storage that includes under-eve hideaways and a hall window seat. "Massive baseboards are scaled per the Movement larger than normal, in direct dimension to the height of the ceiling," said Mr. Christian. "While furniture pieces are dual-tone with the natural grains of the wood worked in harmony with the design. Intricate inlays, joined pegs, and tiny detailed pieces fit perfectly together in exacting patterns," added Mrs. Burke.
Within the master bathroom, a natural, sand-colored Jerusalem fossil stone was used as flooring complimented by butterscotch granite on the countertops. Kohler was chosen for all the bathroom fixtures because of their attention to the period within their modern hardware design. While there is adequate closet space in the master bedroom, Ms. Burke chose to compliment the dresser and four-poster bed with a massive armoire and lush, long window seating perfect for bird watching.
In the efficient kitchen, striking stainless steel Viking appliances were used in direct contrast to a solid oak, butcher block pedestal that supports a mammoth, contiguous dark green granite countertop. Even metallic paint was used on the kitchen artwork to enhance the stainless appeal. The attention to detail continues when visitors notice that the same granite that is used in the kitchen is duplicated in the entertainment area of the living room.