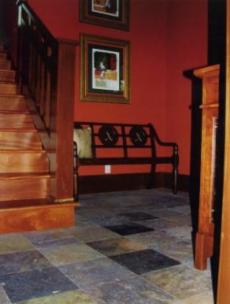 Multi-colored earth-toned slate not only graces the entry foyer, but is repeated around the fireplace in the living area for dramatic impact. A folk art letterbox in the foyer provides a touch of whimsy with function.
The color palate throughout the house includes warm Oriental reds, sage, and burnished brown. In the living room, the ample, camel-backed sofa is designed like a well-dressed man in a sage herringbone pattern, accented with pillows of modified paisley and corduroy. The large curio cabinet is a powerful piece of work with it's stained and seeded glass. A rattan desk set, Oriental ginger jar accents and rugs, as well as lamps covered with upholstery fabric shades and trimmed in roped leather, complete the look. And a rich, coffee-colored leather wing chair with a generous ottoman along with a Mission-design rocker beckons guests to "sit and rest a spell."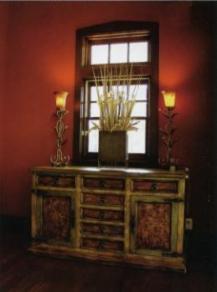 Upstairs, the concentration on detail is even more evident in the glass doors that lead into what could become an enchanting child's room that beckons a lively game of hide and seek. Then, guests will be enchanted with the neutral, restful hues of the beach-themed bedroom that includes as delightful "overlook" into the main living area. Attention to detail includes a mirror designed like a ladder and tiny shells painstakingly sewn onto a throw pillow.
Off of the downstairs living area, a popular outdoor kitchen has been set up on the private and inviting herringbone-brick patio just waiting for a host! "The Inside Story Interiors has a vast array of outdoor kitchens, and the one used as Magnolia Shade is just one of many modular designs from which to choose," said Verna.
You, too, can have it "made in the shade" at this outstanding example of exemplary craftsmanship and design excellence at Wild Heron's Magnolia Shade.
The Inside Story Interiors of the EmeraldCoast
(850) 234-7868
visit our extraordinary 6,000 square foot showroom at
7829 Front Beach Road
Panama City Beach, FL32407